"In my experience, "cooking more Japanese" comes down to paying closer attention to details, embracing variety and seasonality, and understanding umami-the flavor usually described as the essence of savoriness. This box includes the foundational recipes and flavors that taught me to understand Japanese food."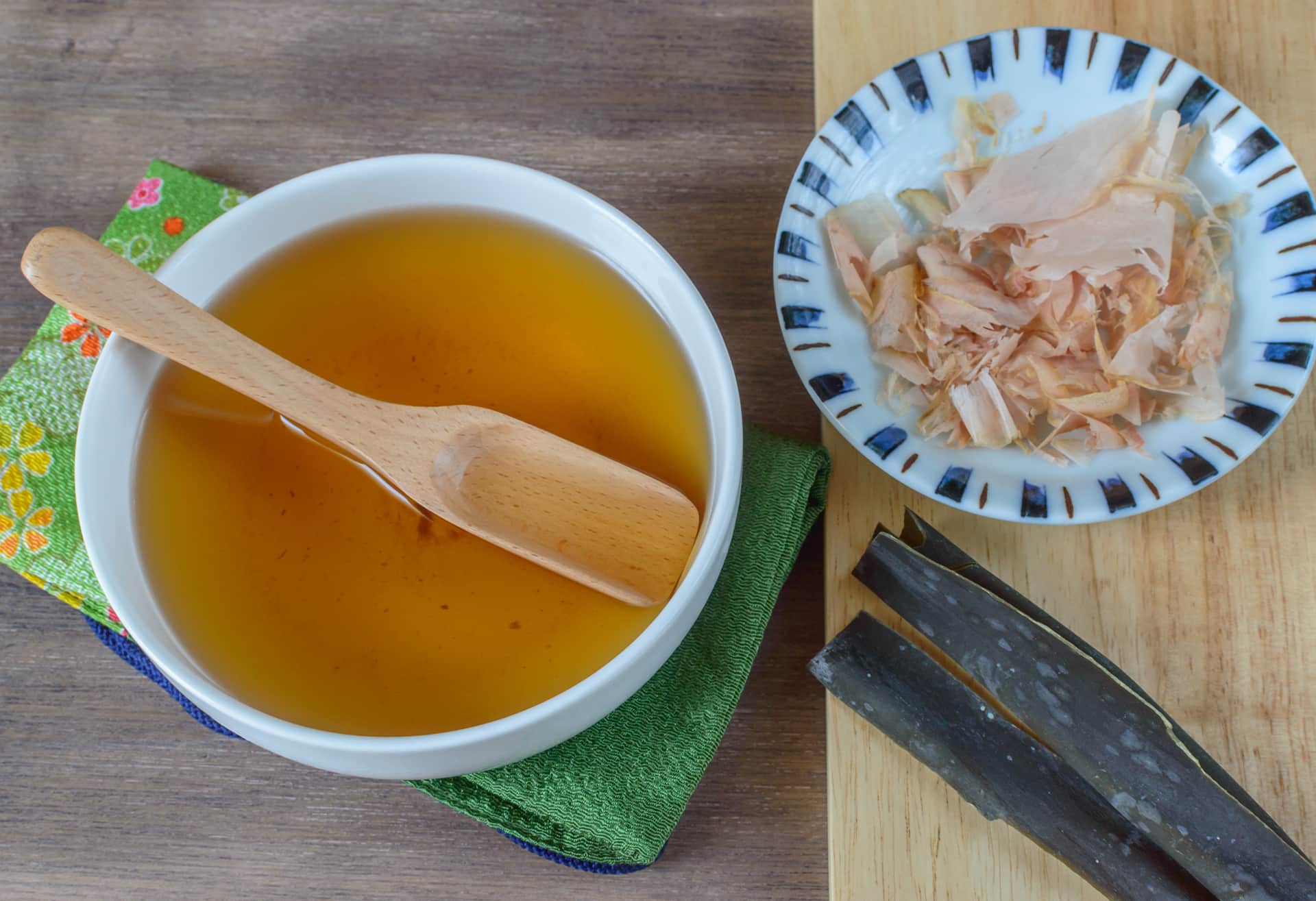 Dashi (だし)
Makes about 7 cups
One 5-x-10-inch sheet kombu
4 cups tightly packed katsuobushi (bonito flakes)
1. Bring 8 cups water to a bare simmer in a large saucepan, then shut off the heat and add the kombu. Let the seaweed sit for 5 minutes, then add the katsuobushi, cover the pan, and allow to soak for 15 more minutes.
2. Strain the broth through a fine mesh strainer and let cool. Use immediately, or pack up and store. The dashi will keep for 2 days covered in the fridge or for a couple months if you freeze it into ice cubes and store them in a zip-top bag with the air squeezed out.
Vegetable Dashi
Makes about 8 cups
While it lacks the smokiness of regular dashi, this katsuobushi-less dashi can step in admirably in any dish that you want to keep vegetarian.
8 dried shiitake mushrooms
¼ cup vegetable oil
1 large onion, roughly chopped
½ head green cabbage, roughly chopped
2 bunches scallions, cut into 1-inch lengths
1 large carrot, roughly chopped
1 russet potato, peeled and roughly chopped
6 garlic cloves, peeled
2 teaspoons kosher salt
One 5-inch square kombu
1. Place the dried shiitakes in a small bowl and cover with 1 cup warm water. Allow to soak for 30 minutes.>
2. Heat a medium pot over medium-high heat and add the vegetable oil. Add the onion, cabbage, scallions, carrot, potato, and garlic and sprinkle with the salt. Cook, stirring regularly, for 3 to 4 minutes, or until the vegetables have softened slightly and given up some of their liquid. Add 9 cups water along with the shiitakes and their soaking liquid, and the kombu, and bring to a gentle simmer, then lower the heat and simmer very gently for 1 hour.
3. Remove the pot from the heat and strain the dashi through a fine-mesh strainer. Use immediately or allow to cool to room temperature, then transfer to airtight containers and store in the fridge for up to 4 days. Vegetable dashi also keeps well for a couple months, frozen into ice cubes and stored in a zip-top bag.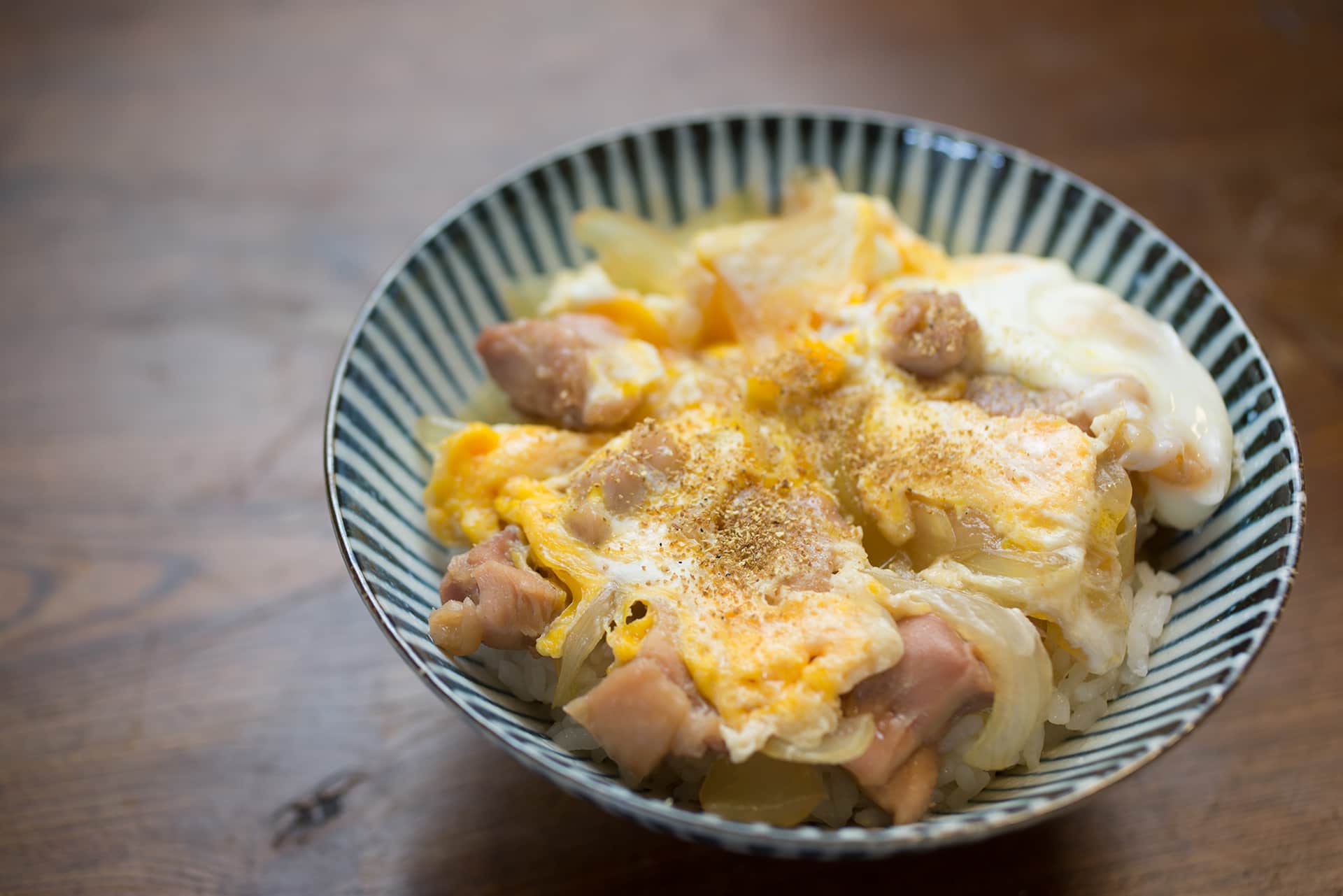 Chicken and Egg Bowl (Oyakodon 親子丼)
Serves 4 - 6
1 cup Dashi
½ cup mirin
¼ cup plus 1 tablespoon soy sauce
14 ounces boneless, skinless chicken thighs, cut into 1-inch chunks
½ onion, sliced very thin
2 scallions, sliced thin on the bias
12 large eggs, lightly beaten
For serving
Steamed rice
Shichimi togarashi
1. Combine the dashi, mirin, and soy sauce in a large skillet and bring to a gentle simmer over medium heat. Add the chicken and cook until it's halfway done, about 2 minutes. Add the onion and scallions and cook for 2 to 3 minutes, or until the vegetables have softened and the chicken is cooked through.
2. Drop the heat to medium-low and slowly trickle the beaten eggs into the pan, stirring slowly in a circular motion with chopsticks or a wooden spoon . The timing will probably be 2 to 3 minutes, but this takes a little bit of finesse to get exactly right-you want the eggs to be more custard than curd, which is a fine line. Err on the side of less cooked, and you will be rewarded with an eggy-dashichickeny sauce.
3. Serve the oyakodon over bowls of steamed rice and garnish with togarashi. Eat with spoons.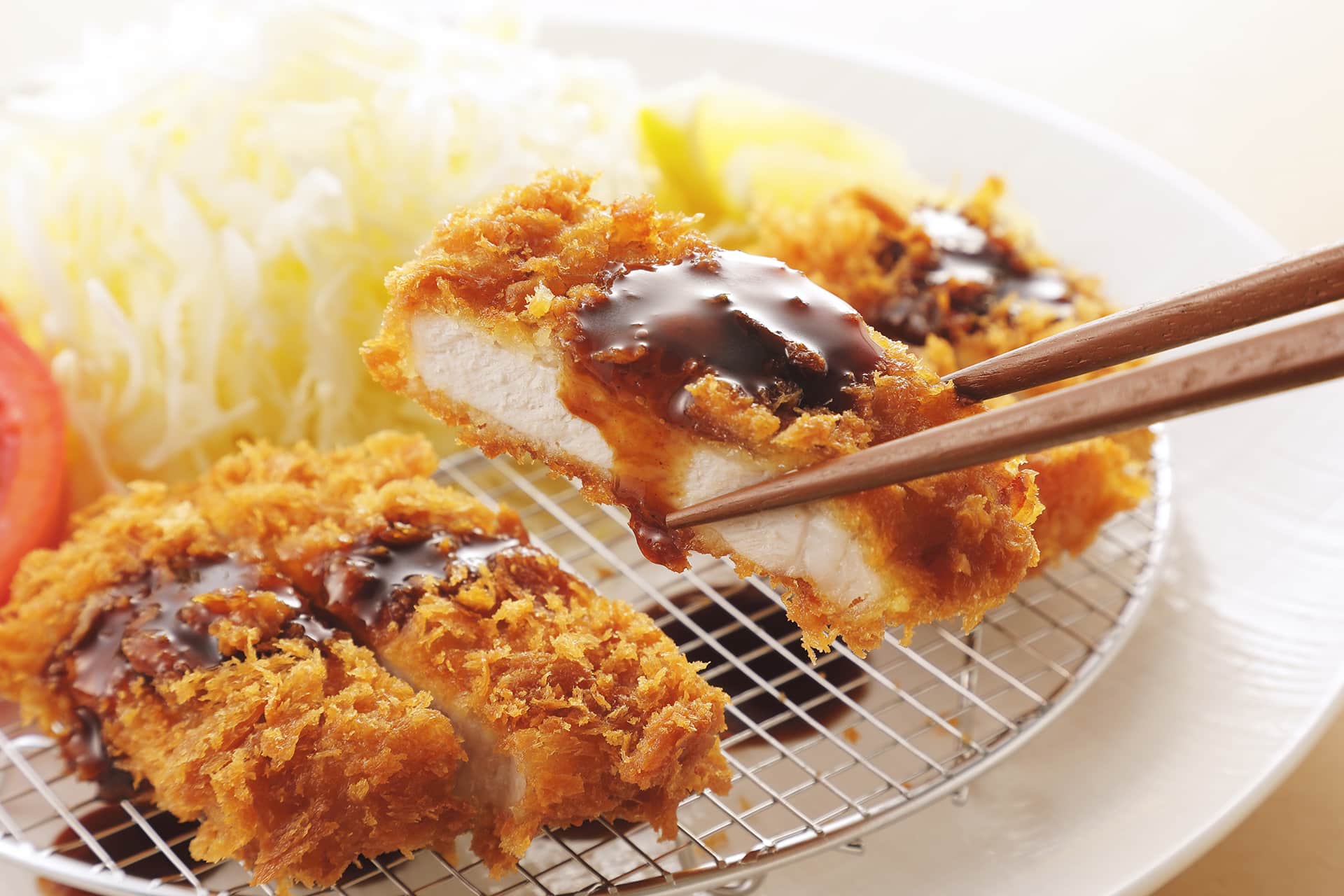 Fried Pork Cutlets (Tonkatsu 豚カツ)
Serves 4
One 1-pound pork tenderloin
2 teaspoons kosher salt
½ cup all-purpose flour
1 large egg
¾ cup panko
1 cup vegetable oil
For serving
Steamed rice
Shredded cabbage
Lemon wedges
Bull-Dog tonkatsu sauce
1. Slice the pork tenderloin crosswise into 4 equal pieces. Working with one piece at a time, place the pork, cut side down, on a cutting board and cover it loosely with plastic wrap. Use a meat mallet or rolling pin to pound the meat into a flat cutlet about ½ inch thick. Don't brutalize the meat-ten to twelve moderately firm whacks ought to do it. Season the cutlets lightly on both sides with the salt.
2. Set up a breading station by lining up three shallow pans-pie tins work well-and filling them with the flour, egg, and panko, respectively. Lightly beat the egg. One at a time, coat each piece of pork with flour, gently dusting off any excess, then give it a dip in egg and, finally, a coating of panko. Don't be stingy with the bread crumbs-cover the whole piece of meat and press down gently to ensure a good coating. Transfer to a plate.
3. Add the oil to a large skillet and heat over medium-high heat to 325°F. As a rough guide, the oil is ready when you drop a few pieces of panko in the oil and they immediately sizzle. Fry the cutlets in batches for 3 to 4 minutes per side, or until golden brown, then transfer to a wire rack and let rest for a few minutes.
4. Slice the pork into ½-inch-wide strips and serve with steamed rice, a big pile of shredded cabbage, lemon wedges, and a heavy drizzle of Bull-Dog sauce.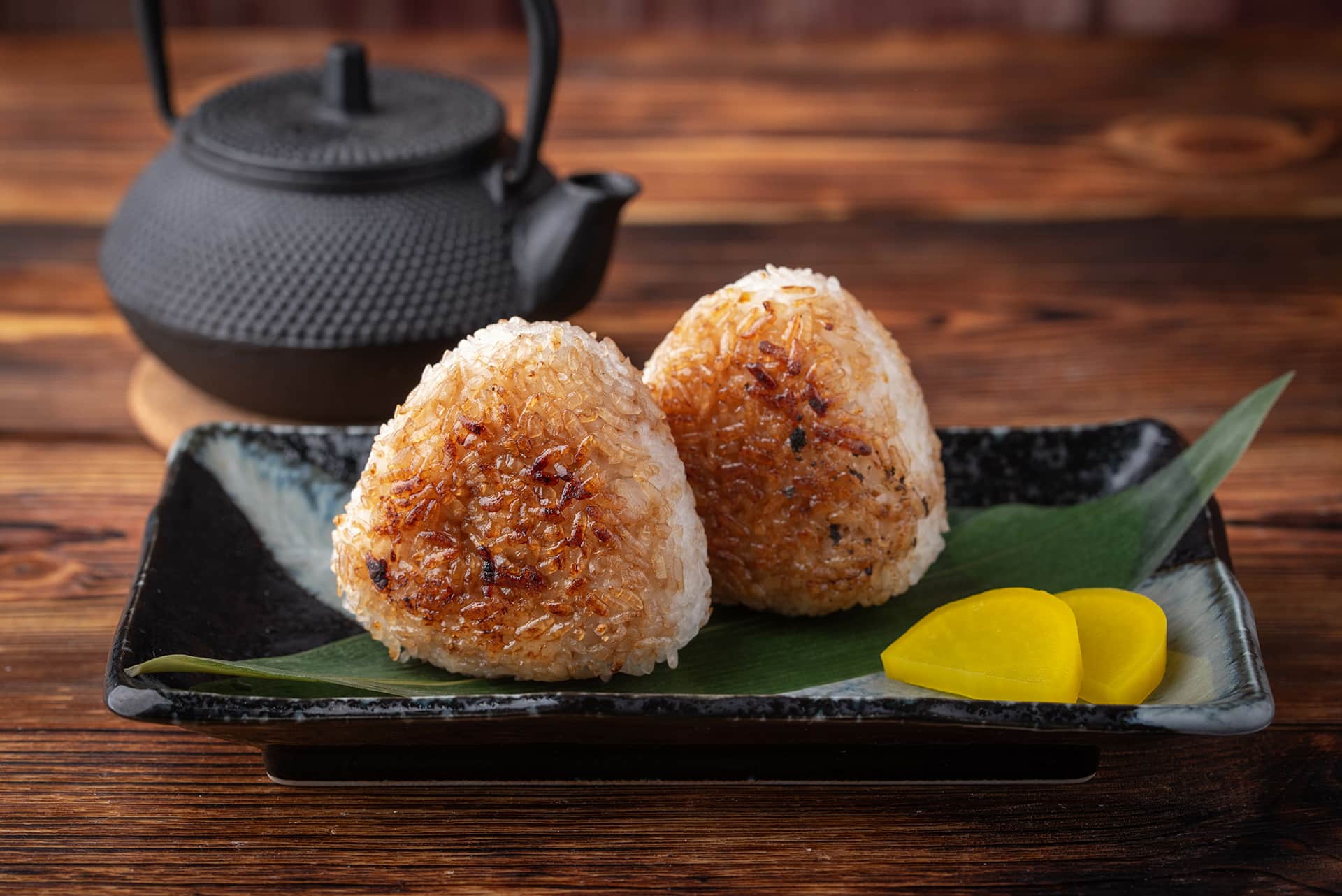 Grilled Rice Balls (Yaki Onigiri 焼きおにぎり)
Serves 4 as a drinking snack
2 to 3 tablespoons vegetable oil
4 Rice Balls (Onigiri), freshly made
2 tablespoons Dashi
2 teaspoons soy sauce
1 teaspoon mirin
For serving
Mentaiko Mayo (optional)
1. To make each onigiri, place a I-foot square of plastic wrap on a cutting board and drop the warm rice into the center.
2. Use your fingers or a spoon to flatten the rice into a layer about 1 inch thick. Gather the four corners of the plastic wrap together, lift up the rice, and twist the plastic together to force the rice together into a ball. Then use your hands to form the ball into a rough triangle, about 1 inch thick, twisting the plastic as necessary to compress the rice. This isn't an exact science. You're just using the plastic to help you form the rice. Remove the plastic.
3. Heat a nonstick skillet over medium-low heat, then coat with a little of the vegetable oil. Gently lay the onigiri in the pan and allow to cook while you mix together the dashi, soy sauce, and mirin in a small bowl.
4. Brush the onigiri lightly with the dashi-soy mixture, then flip them over. Keep brushing and flipping every few minutes until top and bottom are crisp and brown, about 20 minutes, adding more oil as needed. Serve hot with lots of mentaiko mayo, if you've made it.
Mentaiko Mayo
Makes about ⅓ cup
2 ounces mentaiko (cod or pollock roe), gently scraped from the sac
¼ cup Kewpie mayonnaise
Mix the mentaiko and mayonnaise thoroughly together in a bowl. Serve immediately.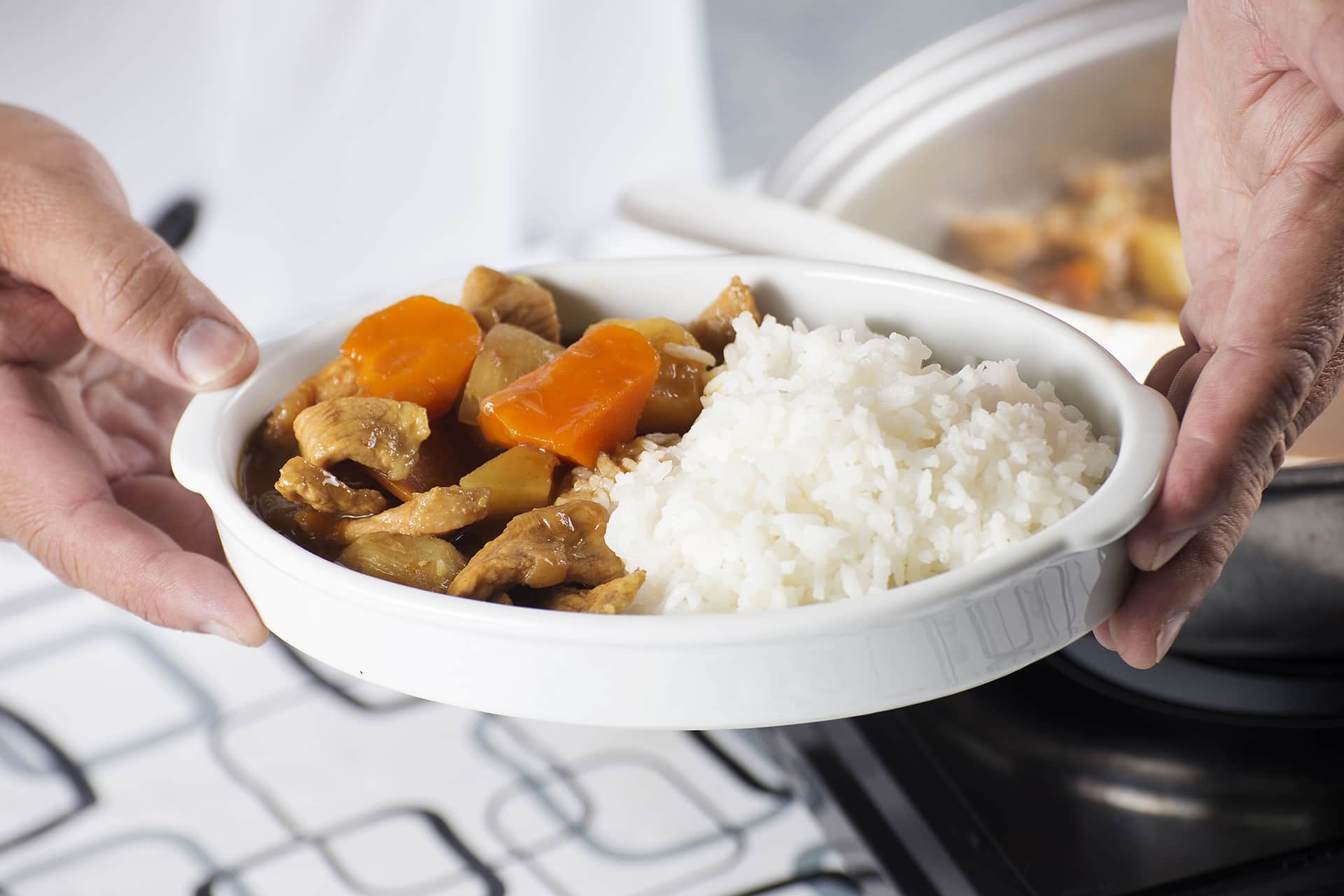 Pork Curry from the Box (カレー)
Serves 4
Vegetables
1 tablespoon vegetable oil
2 medium carrots, peeled and cut into 1-inch pieces
1 large russet potato or Japanese sweet potato, cut into large chunks
1 onion, cut into large chunks
Meat and curry
1/3 recipe Braised Pork, with the braising liquid, thawed if frozen
One 8-ounce box Japanese curry blocks
½ cup whole milk (optional)
2 tablespoons honey (optional)
For serving
Steamed rice
Fukujin pickles or pickled sushi ginger
1. Heat a Dutch oven or other large heavy-bottomed pot over medium-high heat, then coat with the vegetable oil. Add the carrots and potato and cook for 4 minutes, stirring regularly. Add the onion and cook for 2 more minutes to remove some of the rawness.
2. Use a slotted spoon to scoop the pork chunks into the pot. Now measure how much braising liquid you have and add enough water to total 5 cups of liquid, then add to the pot. Bring to a simmer, lower the heat to medium, and cook until the carrots and potato are nearly tender, 3 to 5 minutes.
3. Break up the curry blocks and stir them into the pot. (It'll take some diligence to make sure they're all completely dissolved.) If you like your curry a little richer/sweeter, stir in the milk and honey. Simmer for 5 minutes, then serve over steamed rice with little piles of pickles on the side.
Braised Pork
Makes enough for 3 batches of curry
One 5-pound boneless pork shoulder, cut into 2-inch chunks
1 tablespoon plus 1 teaspoon kosher salt
1½ teaspoons freshly ground black pepper
2 tablespoons vegetable oil
8 cups Dashi, chicken stock, water, or a combination
1. Preheat the oven to 350°F.
2. Season the pork with the salt and pepper. Heat a Dutch oven or other large heavy-bottomed pot over medium-high heat, then coat with the vegetable oil. Working in batches, sear the pork pieces on all sides. Don't crowd the pot, or you'll end up steaming rather than searing the meat. All told , you should spend a good 15 minutes or so, making sure all of the meat gets some good color and removing the pieces to a bowl or plate as they brown. Once all the meat is browned, pour off the fat and return the meat to the pot . Add the dashi, chicken stock, or water and bring to a simmer, then cover the pot and slide it in the oven. Cook for about 2 hours , or until the meat is fork-tender .
3. Reserve one-third of the meat and broth for your first batch of curry. Let the rest of the pork and broth cool to room temperature before portioning it into two plastic containers and freezing it for future curry dinners.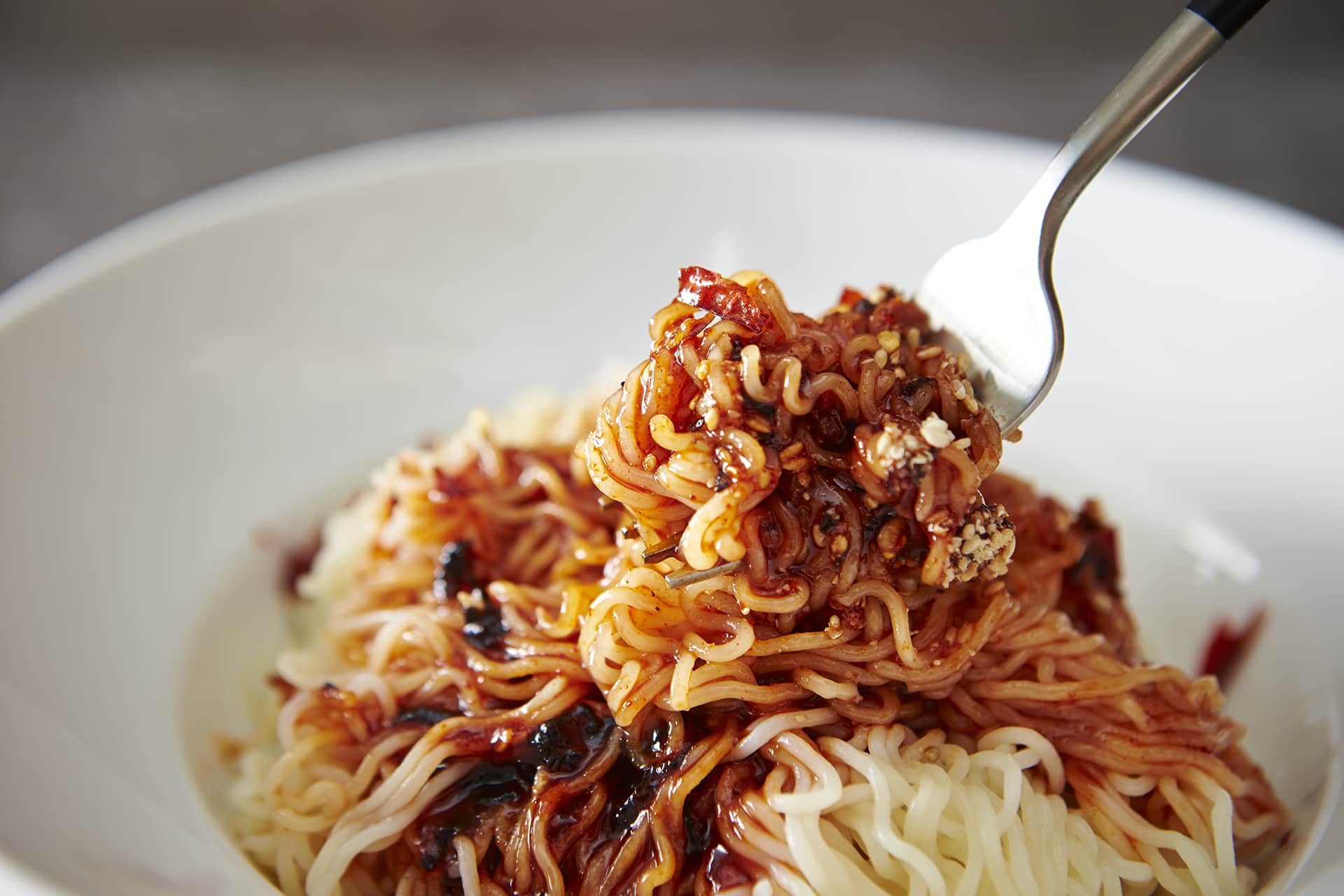 Spicy Somen with Poached Chicken (ピリ辛素麺)
Serves 4
1 boneless, skinless chicken breast (about 1 pound)
2 tablespoons kosher salt
7 ounces dried somen noodles
1 tablespoon plus 1 teaspoon soy sauce
1 tablespoon rice vinegar
1 teaspoon sugar
1 cup Chunky Chili Oil
3 scallions, sliced thin
One 2-inch piece English cucumber, peeled and sliced into matchsticks
1. Combine the chicken breast, 1 tablespoon of the salt, and 6 cups water in a large saucepan set over medium heat and bring to a bare simmer. Immediately drop the heat as low as it will go and cook until the chicken is cooked through, about 25 minutes. Remove the chicken and allow to rest on a plate. (If you like, you can do this a day in advance; wrap the chicken in plastic and chill it in the fridge overnight.)
2. Pour out the poaching liquid (you can strain it and keep for sipping or cooking purposes, if you like), clean out the saucepan, and fill with fresh water. Bring to a boil and season with the remaining 1 tablespoon salt, then add the somen and cook according to the package directions. Meanwhile, set up an ice bath; make sure to use plenty of ice and water, as you want your noodles to chill thoroughly. Once they're cooked, drain the noodles and plunge into the ice bath. Give them a stir with your fingers or a pair of chopsticks and allow to cool for a couple minutes.
3. Once the noodles are ice-cold, drain them really well and place them in a bowl. Add the soy sauce, vinegar, and sugar and mix well.
4. Divide the dressed somen among four plates and top each with a few generous spoonfuls of chili oil. Cut the chicken into ½-inch-thick slices and shingle on top of the noodles. Finish each with a sprinkling of scallions and a handful of cucumber. Serve.